Thu, 28. Jun. 2018   Peter Schuler
New web design of the university – pilot project of the business information systems group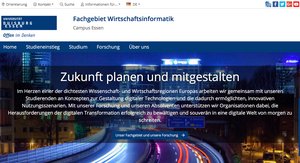 Planning and shaping the future - for us this also means using our own expertise to advance projects of the UDE.
Due to their high information density, university websites are complex case studies. Especially due to the decentralized organizational structure with changing levels of autonomy and responsibility, changes are difficult to implement and many parameters have to be considered. For the upcoming re-design of the university websites, members of the business information systems group were invited in addition to the central level of the university, with the rectorate, press office, marketing and ZIM, as well as an external design agency.
The business information systems group delivers a detailed elevation of requirements and expertise that is necessary for web projects in order to make decisions about the interaction and surface design as well as the technical architecture. Moreover, the business information systems group and the faculty are responsible for the implementation of the pilot project by implementing the new concept for selected cases.
The results of the pilot project are the websites of the different chairs of business information systems:
If you have any questions about the new design you are welcome to send an email to web.WI (at) wiwi.uni-due.de