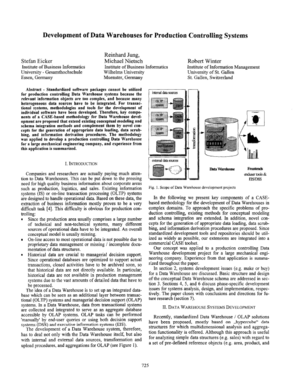 Type of Publication: Article in Collected Edition
Development of Data Warehouses for Production Controlling Systems
Author(s):

Eicker, Stefan; Jung, Reinhard; Nietsch, Michael; Winter, Robert

Editor:

Kocaoglu, D. F.; Anderson, T. R.

Title of Anthology:

Innovation in Technology Management - The Key to Global Leadership, Proceedings PICMET '97

pages:

725-728

Publisher:

Portland State University

Location(s):

Portland

Publication Date:

1997

ISBN:

0-7803-3574-0

Digital Object Identifier (DOI):

Link to complete version:

Citation:
Abstract
Standardized software packages cannot be utilized for production controlling data warehouse systems because the relevant information objects are too complex, and because many heterogeneous data sources have to be integrated. For transactional systems, methodologies and tools for the development of individual software have been developed. Therefore, key components of a CASE-based methodology for data warehouse development are proposed that extend existing conceptual modeling and schema integration methods and complement them by novel concepts for the generation of appropriate data loading, data scrubbing and information derivation procedures. The methodology was applied to develop a production controlling data warehouse for a large mechanical engineering company, and experience from this application is summarized.