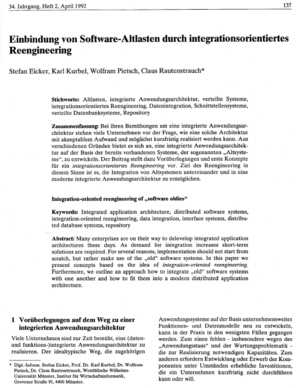 Type of Publication: Article in Journal
Einbindung von Software-Altlasten durch integrationsorientiertes Reengineering
Author(s):

Eicker, Stefan; Kurbel, Karl; Pietsch, Wolfram; Rautenstrauch, Claus

Title of Journal:

Wirtschaftsinformatik

Volume (Publication Date):

34 (1992)

Number of Issue:

2

pages:

137-145

Keywords:

Altlasten, integrierte Anwendungsarchitektur, verteilte Systeme, integrationsorientiertes Reengineering, Datenintegration, Schnittstellensysteme, verteilte Datenbanksysteme, Repository

Citation:
Abstract
Bei ihren Bemühungen um eine integrierte Anwendungsarchitektur stehen viele Unternehmen vor der Frage, wie eine solche Architektur mit akzeptablem Aufwand und möglichst kurzfristig realisiert werden kann. Aus verschiedenen Gründen bietet es sich an, eine integrierte Anwendungsarchitektur auf der Basis der bereits vorhandenen Systeme, der sogenannten "Altsysteme", zu entwickeln. Der Beitrag stellt dazu Vorüberlegungen und erste Konzepte für ein integrationsorientiertes Reengineering vor. Ziel des Reengineering in diesem Sinne ist es, die Integration von Altsystemen untereinander und in eine moderne integrierte Anwendungsarchitektur zu ermöglichen.