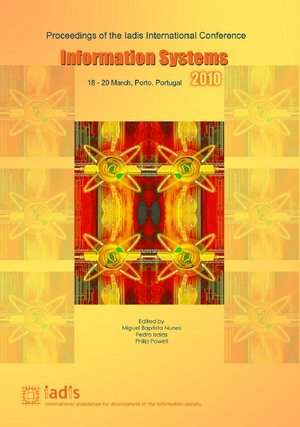 Type of Publication: Article in Collected Edition
Hard Facts, Soft Skills? Business Informatics Curricula Reviewed for Supporting a Holistic View on People, IT & Organization
Author(s):

Eicker, Stefan; Pniewski, Sabine; Schuler, Peter M.

Editor:

Miguel Baptista Nunes, Pedro Isaías; Powell, Philip

Title of Anthology:

Proceedings of the IADIS International Conference Information Systems 2010

Location(s):

Porto, Portugal

Publication Date:

2010

ISBN:

978-972-8939-09-0

Language:

english

Keywords:

Business Informatics, IS Curricula, Soft Skills, Intermediation, Systemic Thinking

Citation:
Abstract
With regard to increasing interdependencies between people, IT and organization the demand for intermediation within this area of tension rises. The question is, to what extent the current profile of Business Informatics practitioners is suited to meet this demand. In order to find an answer to this question, we analyzed the current profile of Business Informatics using a structuring model. Based on the results showing both existing and missing hard and soft facets of the profile we suggest possible building blocks for the curricula of an alternative Business Informatics profile.