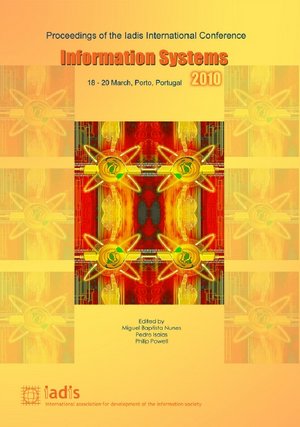 Type of Publication: Article in Collected Edition
Operationalization of Flexibility in Business Process Management
Author(s):

Eicker, Stefan; Nagel, Annett; Schuler, Peter M.

Editor:

Miguel Baptista Nunes, Pedro Isaías; Powell, Philip

Title of Anthology:

Proceedings of the IADIS International Conference Information Systems 2010

Location(s):

Porto, Portugal

Publication Date:

2010

ISBN:

978-972-8939-09-0

Language:

english

Keywords:

Business Process Management, Business Process Flexibility, Business Process Change Flexibility, Business Process Execution Flexibility

Link to complete version:

http://www.iadisportal.org/digital-library/operationalization-of-flexibility-in-business-process-management

Citation:
Abstract
Flexibility is the argument brought forward when preparing enterprises for the (uncertain) future. As business process management (BPM) aims at the methodical design of goal-oriented business processes, the world of change added 'flexibility' to the existing goals 'quality', 'time' and 'costs'. This paper addresses the topic of flexibility focusing on BPM in order to establish a definition of flexibility suited to serve the different research areas, so far each covering flexibility with a particular view. Based on the three levels of flexibility presented in this paper an approach will be documented how business processes can be improved using these levels.