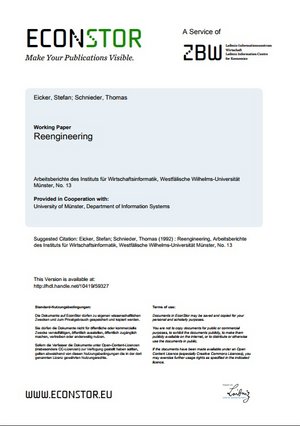 Type of Publication: Article in Journal
Reengineering
Author(s):

Eicker, Stefan; Schnieder, Thomas

Title of Journal:

Arbeitsberichte des Instituts für Wirtschaftsinformatik

Publication Date:

1992

Number of Issue:

13

Citation:
Abstract
In Theorie und Praxis der betrieblichen Datenverarbeitung gewinnen Projekte zur systematischen Überarbeitung von (insbesondere alten) Anwendungssystemen immer mehr an Bedeutung. Als Bezeichnung für das entsprechende Wissens-/Forschungsgebiet hat sich der Begriff Reengineering etabliert. Der vorliegende Arbeitsbericht motiviert das Reengineering und weist auf seinen möglichen Nutzen hin. Darüber hinaus wird eine Übersicht einerseits über Anforderungen an Reengineering-Werkzeuge und andererseits über die zur Verfügung stehenden Tools gegeben. Außerdem werden zwei erfolgreiche Reengineering-Projekte vorgestellt.