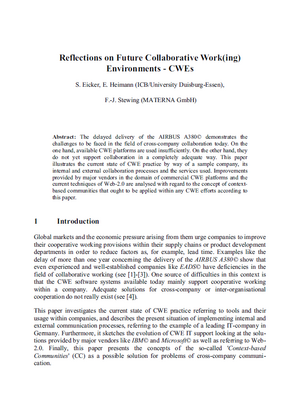 Type of Publication: Article in Collected Edition
Reflections on Future Collaborative Work(ing) Environments
Author(s):

Eicker, Stefan; Heimann, Erik; Stewing, Franz-Josef

Title of Anthology:

Proceedings of CWEs, CHALLENGES IN COLLABORATIVE ENGINEERING (CCE'07)

Location(s):

Krakow, Poland

Publication Date:

2007

Citation:
Abstract
The delayed delivery of the AIRBUS A380© demonstrates the challenges to be faced in the field of cross-company collaboration today. On the one hand, available CWE platforms are used insufficiently. On the other hand, they do not yet support collaboration in a completely adequate way. This paper illustrates the current state of CWE practice by way of a sample company, its internal and external collaboration processes and the services used. Improvements provided by major vendors in the domain of commercial CWE platforms and the current techniques of Web-2.0 are analysed with regard to the concept of contextbased communities that ought to be applied within any CWE efforts according to this paper.