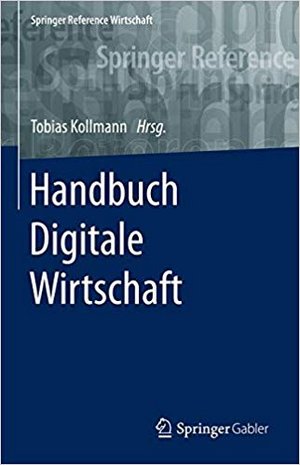 Type of Publication: Article in Collected Edition
Smart Services und ihr Einfluss auf die Wertschöpfung und Geschäftsmodelle von Unternehmen
Author(s):

Paukstadt, Ute; Strobel, Gero; Eicker, Stefan; Becker, Jörg

Editor:

Kollmann, Tobias

Title of Anthology:

Handbuch Digitale Wirtschaft

pages:

1-21

Publisher:

Springer Gabler

Location(s):

Wiesbaden

Publication Date:

2019

ISBN:

978-3658172909

Keywords:

Smart Services · Intelligente Dienstleistungen · Smart Products · Smart-Service- Systeme · Geschäftsmodelle

Digital Object Identifier (DOI):

Link to complete version:

Citation:
Abstract
In den letzten Jahren wurde die Digitalisierung verstärkt vor dem Hintergrund desInternets der Dinge betrachtet, bei dem jegliche Bestandteile des täglichen Lebens zu intelligenten Objekten (Smart Products) werden und mit dem Internet verbunden sind. Aufbauend auf den Smart Products entstehen neue digitale Dienstleistungen, sogenannte Smart Services. Mit diesen intelligenten Dienstleis- tungen werden völlig neue Wertschöpfungspotenziale erschlossen, die sich eben- falls auf die Geschäftsmodelle von Unternehmen auswirken. Ziel dieses Beitrages ist es, einerseits einen allgemeinen Einstieg in den Themenkomplex der Smart Services zu bieten und selbige andererseits spezifisch vor dem Hintergrund ihres Wertschöpfungspotenzials für Geschäftsmodelle und Ökosysteme näher zu beleuchten.