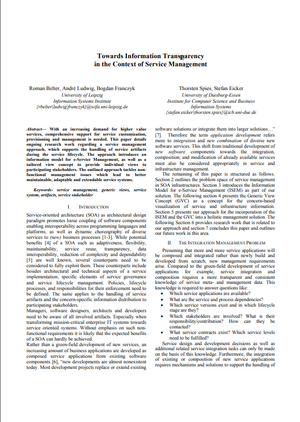 Type of Publication: Article in Collected Edition
Towards Information Transparency in the Context of Service Management
Author(s):

Belter, Roman; Spies, Thorsten; Ludwig, Andre; Franczyk, Bogdan; Eicker, Stefan

Title of Anthology:

Proceedings of the IEEE International Conference on Service-Oriented Computing and Applications (SOCA), 2010

Publisher:

IEEE

Location(s):

Perth

Publication Date:

2010

ISBN:

978-1-4244-9802-4

Language:

en

Keywords:

service management, generic views, service system, artifacts, service stakeholder

Digital Object Identifier (DOI):

Link to complete version:

Citation:
Abstract
With an increasing demand for higher value services, comprehensive support for service customization, provisioning and management is needed. This paper details ongoing research work regarding a service management approach, which supports the handling of service artifacts during the service lifecycle. The approach introduces an information model for e-Service Management, as well as a tailored view concept to provide individual views to participating stakeholders. The outlined approach tackles nonfunctional management issues which lead to better maintainable, adaptable and extendable service systems.