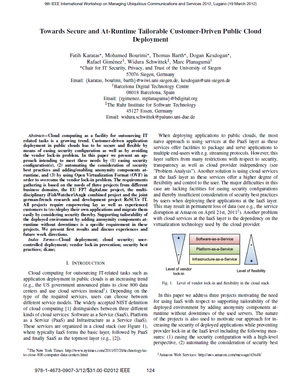 Type of Publication: Article in Collected Edition
Towards Secure and At-Runtime Tailorable Customer-Driven Public Cloud Deployment
Author(s):

Karatas, Fatih; Bourimi, Mohamed; Gimenez, Rafael; Schwittek, Widura; Planaguma, Marc

Title of Anthology:

Proceedings of the 9th International IEEE Workshop on Managing Ubiquitous Communications and Services, part of the IEEE International Conference on Pervasive Computing and Communications, (PerCom) 2012

pages:

124-130

Publisher:

IEEE

Publication Date:

2012

ISBN:

978-1-4673-0906-6

Digital Object Identifier (DOI):

Link to complete version:

Citation:
Abstract
Cloud computing as a facility for outsourcing IT related tasks is a growing trend. Customer-driven application deployment in public clouds has to be secure and flexible by means of easing security configuration as well as by avoiding the vendor lock-in problem. In this paper we present an approach intending to meet these needs by (1) easing security configuration(s), (2) automating the consideration of security best practices and adding/enabling anonymity components at-runtime, and (3) by using Open Virtualization Format (OVF) in order to overcome the vendor lock-in problem. The requirements gathering is based on the needs of three projects from different business domains, the EU FP7 digital.me project, the multidisciplinary iFishWatcher/iAngle combined project and the joint german-french research and development project ReSCUe IT. All projects require empowering lay as well as experienced customers to (re-)deploy their own applications and migrate them easily by considering security thereby. Supporting tailorability of the deployed environment by adding anonymity components at-runtime without downtimes is a specific requirement in these projects. We present first results and discuss experiences and future work directions.