Kaleidoscope - Generic SOA Views
Context
Service-oriented architectures (SOA) offer concepts and principles which allow the realization of flexible corporate applications and the implementation of agile system environments. Service-oriented approaches provide the additional advantage that multiple perspectives and points of view within an organization can be taken into account. SOAs feature useful abstractions at different levels. Therefore they are not only comprehensible to IT personnel but also to non-IT personnel. This characteristic of an SOA taps into the knowledge of many employees thus contributing to its success and, incidentally, enables the management of the IT and business departments to gain appropriate influence on the main architectural decisions.


Challenges and Motivation
Due to the fact that the complexity of software is permanently increasing, the development and maintenance of software systems are expensive and time consuming processes. The successful execution of these processes depends predominantly on the extent to which the complexity of the problem domain and the system can be managed. Apart from the great number of advantages IT leaders discover a noticeable increase of complexity when implementing SOA initiatives. This refers to both the problem complexity and the solution complexity of an SOA. Technology, business processes, business functionality, integration and maintenance are elements of complexity which threaten enterprise projects and reduce an enterprise's agility.
In contrast to stand-alone solutions, which operate as self-contained systems, SOA is a distributed approach. Service-oriented systems do not have clearly defined boundaries. Thus, the governance as well as a comprehensive knowledge and understanding of the system as a whole are essential when services are implemented on different platforms. Additionally, system-wide and domain-exceeding knowledge and understanding are compulsory from the functional point of view. Different stakeholders may have numerous views of a certain system, which contain different aspects and pieces of information in relation to the system as a whole.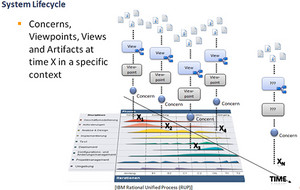 The set of relevant views which is used to document a system's architecture mainly depend on the goals of specific stakeholders. Once documented, those views have a static nature, even though they are subject to change due to iteration cycles. The related set of concerns represented by a specific view will remain the same (otherwise a new view would have been created). But a set of documented views cannot cover the variety of concerns related to a software system arising from different stakeholders acting in a dynamic environment. The stakeholder's concerns and goals mainly depend on their roles, experiences as well as their knowledge and are influenced by changing requirements. Particularly, SOAs that support a dynamic environment lead to a variety of concerns caused by the additional complexity.
Hence the use of views should not only support certain phases, e.g. design or construction, but contribute to the whole SOA life cycle and its evolution. Taking this into account, different research questions arise:
How can a stakeholder consider pieces of information within a certain context, if he does not have access to that information in the form relevant to him?
How can a stakeholder gather and comprehend information in an efficient manner?
What are relevant views?
Who defines which aspects are relevant to a specific stakeholder?
Objectives
Mastering the complexity of software intensive systems
Integrate enterprise repositories to support on-demand creation of generic views
Provision of consistent information in the context of SOA governance
Efficient provision of context-specific information based on stakeholder profiles
Analysis and evaluation of SOA design principles
Better comprehension of the SOA environment
Three-dimensional generic views
Navigation and interaction techniques
Development of prototypes to evaluate conceptual models and software interfaces
Adaption to real world scenarios
Rescent Results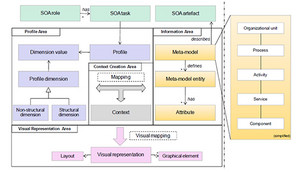 We developed an approach called the Generic View Concept to facilitate the on-demand and context-specific creation of views of SOA-based systems to fulfill the variety of stakeholder concerns. The Generic View Concept is a holistic approach which is not bound to specific SOA environments, e.g. influenced by the organizational structure, implementation details, infrastructure or strategies. It is not intended to replace other view concepts that have proven to be successful when developing software systems. It is rather a complementing concept focused on comprehension and analysis of information in the context of SOAs. An overview of the Generic View Concept is illustrated in the figure below which shows the core elements. The concept is divided into the four main areas: Information, Profile, Context Creation and Visual Representation.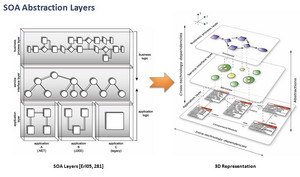 To make use of our approach and gather first experiences with a software tool using real data we developed a prototype (see video demonstration above) which is based on the Generic View Concept. Using the prototype stakeholders are able to configure profiles based on their concerns. An extensible dimension system was introduced which allows a flexible configuration and visual transformation. The prototype uses 3D technologies to represent Generic Views as an alternative to 2D representation forms.
Please take a look at our paper references below for further readings.