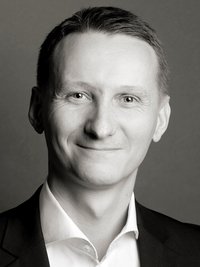 Academic Staff
Robert

Woroch

,
M. Sc.
Room:

R09 R02 H38

Phone:

+49 201 18-34033

Email:

Consultation Hour:

Mo 14:00-15:00; Anmeldung per Email

Address:

Universität Duisburg-Essen, Campus Essen
Fakultät für Wirtschaftswissenschaften
Lehrstuhl für Wirtschaftsinformatik und Softwaretechnik
Universitätsstr. 9
45141 Essen
Curriculum Vitae:
Berufserfahrung
Seit März 2019: Wissenschaftlicher Mitarbeiter am Lehrstuhl für Wirtschaftsinformatik und Softwaretechnik (Lehrstuhlinhaber: Prof. Dr. Stefan Eicker) an der Universität Duisburg-Essen
August 2015 - Februar 2019: Leiter Digitale Medien, con|energy agentur GmbH
Juli 2010 - Juli 2015: Senior Consultant, con|energy agentur GmbH
August 2008 - Juni 2010: Consultant, con|energy ag
Februar 2002 - Juli 2008: Projektleiter Webentwicklung, con|energy ag
Januar 2001 - Januar 2002: Softwareentwickler, Energieportal GmbH & Co. KG
Juni 2001 - März 2009: Geschäftsführender Gesellschafter, ARW Multimedia GbR
März 1999 - Dezember 2000: Webentwickler, con|energy ag
Studium
Virtueller Weiterbildungsstudiengang Wirtschaftsinformatik (VAWi, M. Sc.), Universität Duisburg-Essen
Systems Engineering (B. Sc.), Universität Duisburg-Essen, Schwerpunkt: Business Systems Engineering
Fields of Research:
Digital Business Models
Value Networks
Internet of Things (IoT) und smarte Produkte
Publications:
Wulfert, Tobias; Woroch, Robert; Strobel, Gero; Seufert, Sarah; Mölller, Frederik:

Developing design principles to standardize e-commerce ecosystems - A systematic literature review and multi-case study of boundary resources

. In:

Electronic Markets

(2022). doi:10.1007/s12525-022-00558-8CitationAbstractDetails

Platform ecosystems have captured a variety of markets, enabling coordination, transactions, and value co-creation between independent actors. A focal platform constitutes the central nexus of e-commerce ecosystems and fosters the interaction among ecosystem participants through their boundary resources. Standardizing these interfaces simplifies ecosystem entry for developers and increases the number of participants propelling the network effects, and thus the overall value of the ecosystem. Currently, there is a lack of prescriptive design knowledge guiding platform owners in designing successful e-commerce ecosystems. Addressing this issue, we followed a dual approach, reporting on a systematic literature review in which we identified design requirements and complemented these with a multiple-case study on selected e-commerce ecosystems. Aggregating the requirements resulted in six meta-requirements and 19 design principles that foster the standardization of focal e-commerce platforms. Our design principles simplify the development of complements and enable multi-homing for developers due to possible standardization across ecosystems.

Woroch, Robert; Strobel, Gero:

Show me the Money: How to monetize data in data-driven business models?

. In:

Proceedings of the 17th International Conference on Wirtschaftsinformatik (WI)

. Nürnberg, Germany 2022. CitationAbstractDetails

Increasing digitization and the associated tremendous usage of technology have led to data of unprecedented quantity, variety, and speed, which is generated, processed, and required in almost all areas of industry and life. The value creation and capturing from data presents companies with numerous challenges, as they must create or adapt appropriate structures and processes. As a link between corporate strategy and business processes, business models are a suitable instrument for meeting these challenges. However, few research has been conducted focusing on data-based monetization in the context of data-driven business models so far. Based on a systematic literature review the paper identifies five key components and 23 characteristics of data-driven business models having crucial influence on data-based value creation and value capturing and thus on monetization. The components represent key factors for achieving commercial benefits from data and serve as guidance for exploring and designing suitable data-driven business models.

Woroch, Robert; Strobel, Gero:

Understanding Value Creation in Digital Companies – A Taxonomy of IoT-enabled Business Models

. In: AiS (Ed.):

Proceedings of the 29th European Conference on Information Systems (ECIS 2021)

. A Virtual AIS Conference 2021. CitationAbstractDetails

The spread of the Internet of Things offers companies the potential to exert a disruptive influence on existing market structures and entire domains. The shift from product to service orientation and the integration of the customer as a value co-creator makes the identification and development of value-adding, IoT-based offerings a central challenge. As a link between strategy and business processes, business models are a suitable tool to meet this challenge. However, present business models lack of consideration of IoT specific characteristics. Against this background we provide a taxonomy for the description of IoT-based business models based on systematic literature research. Furthermore, the taxonomy is applied to 103 business models, demonstrating its usefulness. We also provide insights into the design of business models within two domains. The taxonomy provides a tool for investigating busi-ness models, especially how IoT can be incorporated into them and also a conceptual basis for future research.
Talks:
Woroch, Robert: Show me the Money: How to monetize data in data-driven business models?, 17th International Conference on Wirtschaftsinformatik (WI22), 22.02.2022, Nürnberg, Germany (Virtual). Details
Woroch, Robert: Understanding Value Creation in Digital Companies – A Taxonomy of IoT-enabled Business Models, 29th European Conference on Information Systems (ECIS 2021), 14.06.2021, A Virtual AIS Conference. Details
Tutored Theses:
Conceptual modeling in the era of augmented reality: design and evaluation of a modeling tool for value modelling (Master Thesis Business Information Systems, in progress)
Business Process Management in the era of Internet of Things: A State-of-the-Art Analysis of potentials and challenges (Bachelor Thesis Business Information Systems, 2022)
Analysis of opportunities and challenges using IoMT to combat pandemics based on the example of Covid-19 (Bachelor Thesis Business Information Systems, 2022)
Analyse der Anwendbarkeit von Business Model Frameworks für digitale Plattformen im Smart City Kontext (Bachelor Thesis Business Information Systems, 2021)
Industry 4.0 – Conception of a Requirements Catalogue for Employees in the Smart Factory Regarding to Human-Machine Interaction (Bachelor Thesis Business Information Systems, 2021)
Conception and evaluation of the use of innovative technologies for the digital transformation of stationary retail trade (Bachelor Thesis Business Information Systems, 2020)
Other Duties:
Reviewer für die Americas Conference on Information Systems (AMCIS) 2021
Reviewer für die International Conference on Software Business (ICSOB) 2021