VISuM (Visually Impaired Suitable Mobility*)
More independence for blind and visually impaired people
VISuM was a project of our chair in cooperation with UNIAKTIV, the centre for social learning and social responsibility (Zentrum für gesellschaftliches Lernen und soziale Verantwortung) of the University of Duisburg-Essen. The purpose of the project was to support the integration of blind and visually impaired people in everyday life by providing a software for the mobile navigation through the road traffic.
This software was supposed to be implemented with the usage of innovative technologies like mobile phones, smartphones and Global Positioning System (GPS). The software processes a combination of different data (partially existing data) that are tailored for blind and visually impaired people. The aim of the software was to support blind and visually impaired people to move independent and unrestricted through the traffic.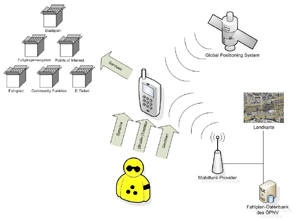 The elements of the software like a GPS-based location determination and appropriated maps were supposed to help blind and visually impaired people to detect traffic stations, so that they are able to get along by themselves in unfamiliar environments. The user can select an appropriated traffic connection via a voice output and with the help of these functions and in combination with digital traffic timetables. The software relies on standard hardware and the WindowsMobile operating system because of a desired integration in the procurement.
Team:
Michael Beul, Jörg Miller (supervisor)
Sascha Liesner, Markus Tschersich, Thorsten Wand (implementation - phase 1)
Robin Bussiek, Tareq Heidarzada, Sebastian Röhren, Eduard Weber (implementation - phase2)
* it was called "Eyeless Mobility" before
With the friendly assistance of