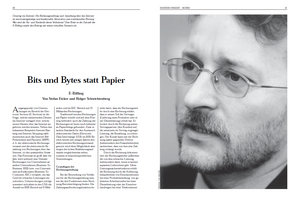 Type of Publication: Article in Journal
Bits und Bytes statt Papier - Rechnungsstellung und -bezahlung über das Internet
Author(s):

Eicker, Stefan; Schwichtenberg, Holger

Title of Journal:

Essener Unikate

Volume (Publication Date):

11 (2002)

Number of Issue:

18

pages:

20-31

Citation:
Abstract
Clearing via Internet: Die Rechnungsstellung und -bezahlung über das Internet ist eine kostengünstige und komfortable Alternative zum traditionellen Postweg.
Was sind die Vor- und Nachteile dieses Verfahrens? Eine Reise in die Zukunft des E-Billing rundet den Beitrag mit einem virtuellen Szenario ab.