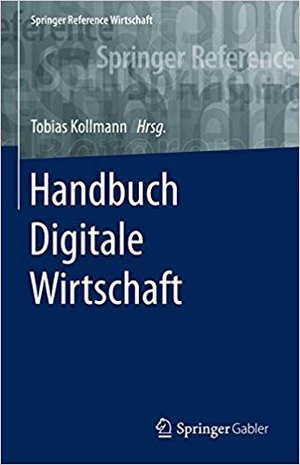 Type of Publication: Article in Collected Edition
Einsatz von Servicesystemen zur Umsetzung von Innovationen im Kontext der Digitalisierung
Author(s):

Editor:

Kollmann, Tobias

Title of Anthology:

Handbuch Digitale Wirtschaft

Publisher:

Springer Gabler

Location(s):

Wiesbaden

Publication Date:

2019

ISBN:

978-3-658-17345-6

Language:

deutsch

Keywords:

Servicesystem, Service Systems Engineering, Value Co-Creation, Digitalisierung, Innovation

Digital Object Identifier (DOI):

Link to complete version:

Citation:
Abstract
Durch die Digitalisierung befinden sich Unternehmen oftmals in der Umstellung zu digitalen Geschäftsprozessen und Geschäftsmodellen. Dies bietet viele neue Chancen für Innovationen durch den Einsatz neuer Konzepte und Technologien. Um diese Chancen nutzbar zu machen, können Servicesysteme eingesetzt werden. Der Beitrag gibt einen Überblick über dieses Konzept und zeigt auf, wie Servicesysteme charakterisiert und entworfen werden können. Ein Servicesystem stellt ein soziotechnisches System dar, das auf die Unterstützung der gemeinsamen Wertschöpfung abzielt, indem verschiedene interne und externe Ressourcen integriert und kombiniert werden. Der Entwurf erfolgt im Rahmen des Service Systems Engineerings in meist agilen Prozessen mit dem Ziel einer frühen Markterprobung. Dabei kann der Innovationsgedanke explizit berücksichtigt werden. Vorhandene Entwurfsansätze sind jedoch meist abstrakt und daher weniger für den konkreten Entwurf geeignet. Es können daher wesentliche Faktoren identifiziert werden, die die Entwicklung von Servicesystemen beeinflussen. Der Beitrag schafft einen Überblick über den aktuellen Stand der Forschung und zeigt Ansatzpunkte für eine Verbesserung der Nutzbarmachung des Konzeptes Servicesystem.