Sun, 10. May. 2020   Rothkamm, Alexander
Two publications accepted for ECIS 2020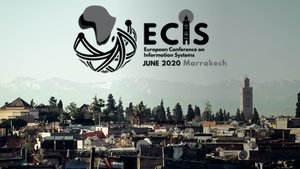 We are pleased to announce that two scientific articles, written by our staff members Gero Strobel and Tobias Brogt, have been accepted for ECIS 2020. This year's European Conference on Information Systems (ECIS) was originally scheduled to take place in Marrakech from 15 to 17 June. Due to the current situation, it was decided to hold the conference in a decentralized manner.
The article "SERVICE SYSTEMS IN THE ERA OF THE INTERNET OF THINGS: A SMART SERVICE SYSTEM TAXONOMY" was co-authored by Tobias Brogt and Gero Strobel. The publication postulates the increasing necessity of service systems and their transformation to smart service systems. The result of the work is a taxonomy for smart service systems, which highlights the smart features of such information systems. The paper includes the development of the taxonomy as well as its evaluation within the analysis of real service systems such as Airbnb or Google Nest.
The publication "AGRICULTURE IN THE ERA OF THE INTERNET OF THINGS: AN INFORMATION SYSTEM ARCHITECTURE FOR SMART AGRICULTURE" written by Gero Strobel looks in particular at the chances and possibilities that arise for the domain of agriculture through the application of intelligent products (IoT). The motivation for the research was the ever increasing world population and the associated issue of global food security. The use of technologies such as the Internet of Things alone does not offer a solution to this problem, but smart products do create new opportunities for more productive, sustainable and cost-effective agriculture. Based on this, the publication developed a generic information system architecture for the use of smart products in agriculture (Smart Agriculture).