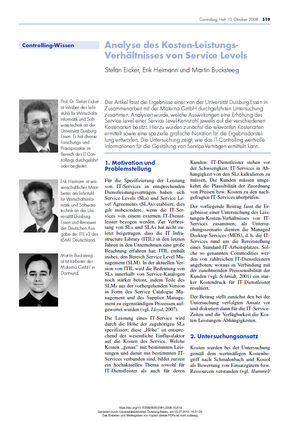 Type of Publication: Article in Journal
Analyse des Kosten-Leistungs-Verhältnisses von Service Levels
Author(s):

Eicker, Stefan; Heimann, Erik; Bucksteeg, Martin

Title of Journal:

Controlling

Volume (Publication Date):

20 (2008)

Number of Issue:

10

pages:

519-526

Digital Object Identifier (DOI):

Link to complete version:

Citation:
Abstract
Der Artikel fasst die Ergebnisse einer von der Universität Duisburg-Essen in Zusammenarbeit mit der Materna GmbH durchgeführten Untersuchung zusammen. Analysiert wurde, welche Auswirkungen eine Erhöhung des Service Level einer Service Level-Kennzahl jeweils auf die verschiedenen Kostenarten besitzt. Hierzu wurden zunächst die relevanten Kostenarten ermittelt sowie eine spezielle grafische Notation für die Ergebnisdarstellung entworfen. Die Untersuchung zeigt, wie das IT-Controlling wertvolle Informationen für die Gestaltung von Service-Verträgen ermitteln kann.